Walk K 5.3 miles / 8.53 Km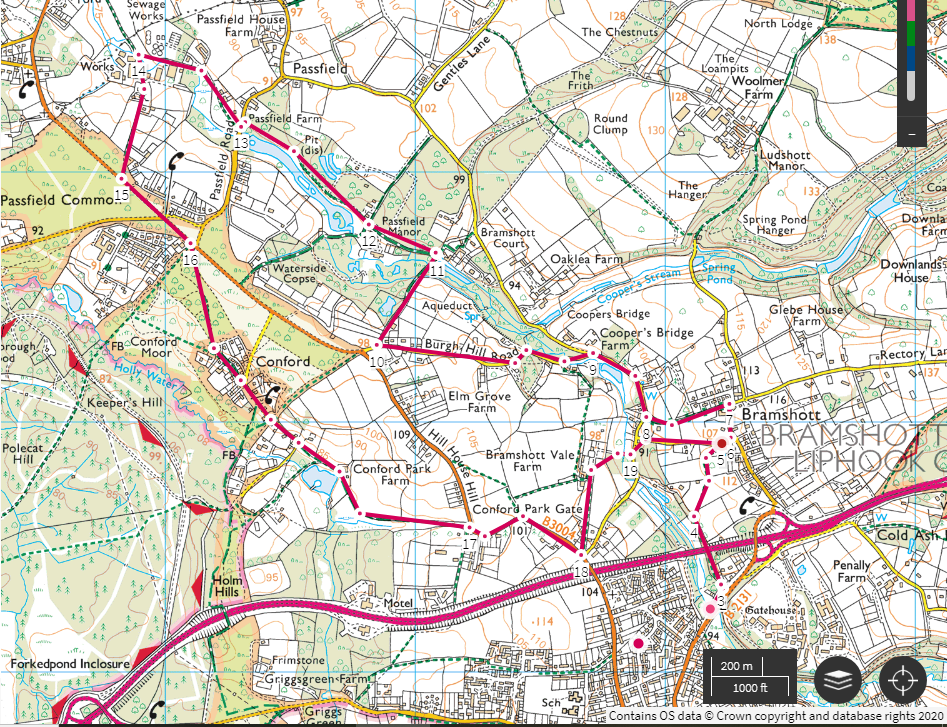 Start at the layby opposite Radford Park next to the commemorative plaque to Canadian Soldiers in WW 1 and WW2.Walk along the layby until you reach a footpath on the left. This footpath leads to St Mary's Parish Church. This path goes under the A3 and through an entrance gateway, designed by Inigo Triggs, into the church graveyard. Follow the path passing by the Canadian War cemetery and out onto Tunbridge Lane via the Lychgate at Waypoint 5
Turn right and cross the road with Adams Cottage on your right. Go up Rectory Lane for a short distance and turn left down a sunken path at Waypoint 7. Walk down this path until you reach a lane at Waypoint 8. Turn right here and walk up the hill passing Bramshott Mill on your left. Bear left at Waypoint 9 go over the bridge and follow Burgh Hill Road for 880 yards/770 metres to Waypoint 10. Turn right here taking the path next to Burgh Hill Farm through woodland down to the River Wey. Once at the bridge continue on the path up the hill until Waypoint 11 is reached.
Take the path on the left and follow it for 1050 yards/950 metres. Go straight on at Waypoint 12.The path runs parallel to the River Wey and the lakes on the Waterside mansion Estate.
At Waypoint 13 turn left and then immediately turn right onto a track. Follow this track for 250 yards/225metres and then go down a stone stepped path on the left. Follow this path for 270 yards/230 metres until you see a bridge on your left.
Cross the bridge, this is at the site of the original Passfield Mill. The mill manufactured paper including postal order paper up to its closure in 1924. Pass through the industrial estate up to the main road. Turn left and follow the pathway by the road. At Waypoint 16 turn right and then take the path through woodland a short distance on your left. Follow the straight path and track into the centre of Conford. When the tarmac road is reached turn right and follow it down the hill. Go straight on through the Conford Park House drive gateway and continue on with the lake on the right.
Keep going straight on along the stone track passing horse paddocks on the right until the main Headley Road is reached at Waypoint 17. Turn right here and follow the footpath up the hill until the junction with Tunbridge Lane is reached at Waypoint 18.Turn left here, but immediately bear left into Bramshott Vale.
Go along Bramshott Vale passing the entrance to Bramshott Vale Farm on your left. Keep going for a short distance and then go over the stile on your right. Go through the field climbing over one more stile and keep going through a kissing gate. Turn right, go over the bridge and then turn left along Tunbridge Lane for about 50 yards/45 metres then turn right just before Roundabout Cottage, where the actor Boris Karloff once lived, and go up the hill until the entrance to the church yard is reached.
Go through the churchyard and continue on the path which ends where the walk started.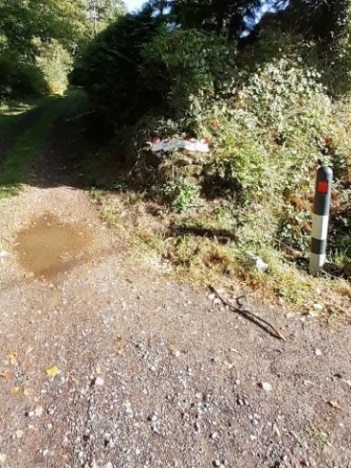 Back to COUNTRY WALKS