A walk in the park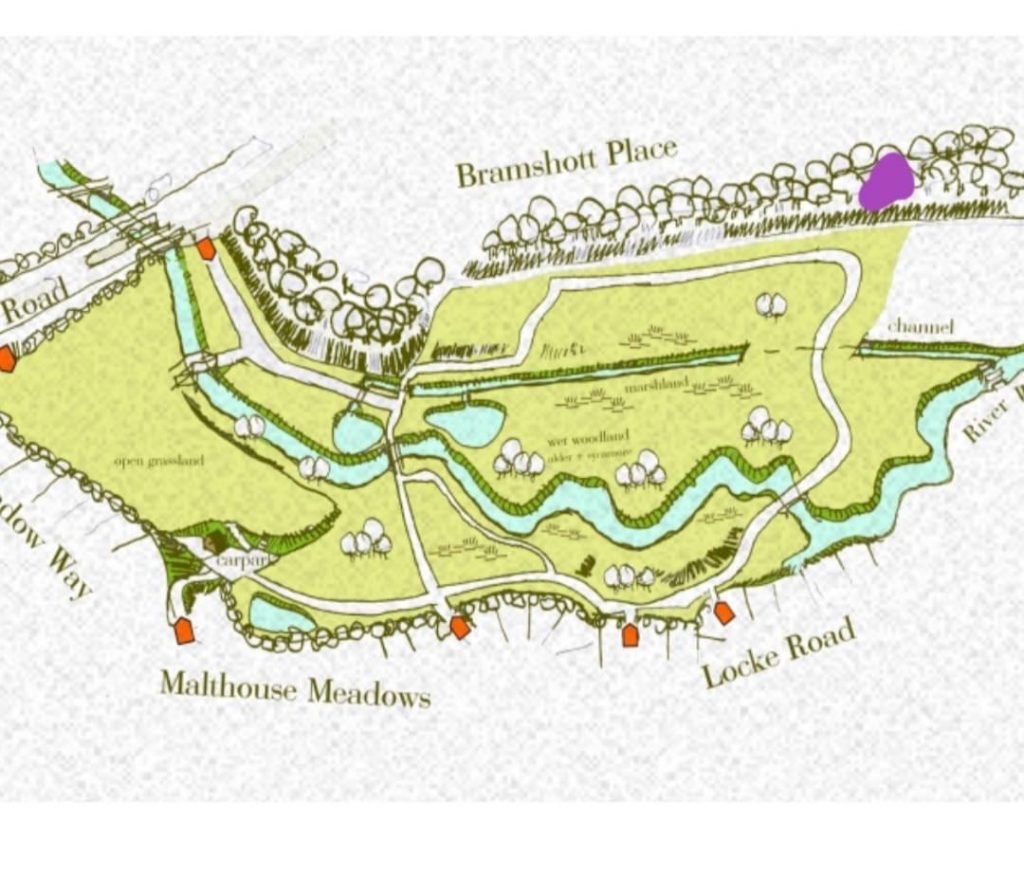 A circular walk, this really is a Walk in the Park . An undulating walk along clearly laid out main paths with a choice of exploring left or right for the more adventurous and where the imagination of children could run riot! Before you leave home encourage your little darlings to paint a pebble and take it with them, they will see why later! The surfaces are a little uneven and can be muddy in parts, even in summer. There is a stream meandering through the park which opens into a pond brimming with wildlife. Please keep your children within view at all times.
Our walk starts from Malthouse Meadows. If you are driving from the centre of the village go along Haslemere Road and turn left into Malthouse Meadows, follow the direction of the road, bearing left until you reach the Radford Park sign leading down a fairly steep driveway into the carpark which is open 24 hours.
Start the walk at the Information Board on the right and follow the path. You will soon cross the stream. Stay on the main path ignoring the paths to your left and right. Keep the river on your left. This area can be boggy so take care. Continue on the main path passing the red 'poo-bag' bin!
Ignore the footpath on your right. Continue to the steps and go down. Cross the stream. Continue to cross the stream by the small bridge then go right.
Follow the main path, ignoring the right hand path. Continue to follow the main path round the bend then go straight ahead. Pass a seat on your right and look for the Pebble Snake, its growing every day, add to it with your own pebble if its still there!
Continue to the steps on your left, go down the steps or take the path going downhill to the left. Turn right at the bottom for both. Turn left over the stone bridge then turn right. You will see the pond on the left, and maybe some ducks too!
Cross over the concrete bridge. Go straight ahead until you see the wooden bridge on the left cross and then go left across the middle of the grassy area. Keeping the mounds of large boulders on your left, head for the large telegraph pole almost in front of you in the distance.
Go through the gate to the left of the pole – this leads you back to the car park
We hope you enjoyed this walk as much as we did, Glenys Kirkpatrick and Valerie Eastes.