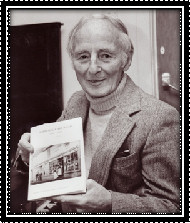 After a long and distinguished career Laurence Giles came to live in Liphook.
His love of the area led him to become involved in local activities, in particular, The Bramshott and Liphook Preservation Society.
During this time he was prolific in his research and his writing. He produced some 97 boxes of research material covering almost 10.000 documents which were left to The Community after his death and needed a worthy home.
Hence the Liphook Heritage Centre was created, and the Archive transferred to it's new residence in February 2011.