Length 4.75M/7.7Km
Easy Circular Walk Liphook, Stanley Common, Lynchmere Common, Hewshott, Liphook through forests, heathland, farmland and lanes, with a few short steep hills.
The walk commences in The Square Liphook. Cross The Square and walk down Midhurst Road passing by the Fire Station. Cross the railway bridge and follow the road to the junction with Highfield Lane at Waypoint 4. Cross the lane and go down the footpath opposite into woodland.
Follow this pathway for about 0.8 mile/ 1.29 Kilometres then turn left [Do not go straight on] at Waypoint 5 and walk up the hill to Waypoint 6.
Turn right here onto the vehicle track and go through the gate next to a cattle grid and go straight on following the path through the woodland and heathland at Waypoint 7 bear left where two paths diverge. Go down the steep hill and at the bottom turn left at Waypoint 8 and follow the path through woodland for 770 yards/700 metres passing a small pond on your left at Waypoint 9.
From the pond walk along the path. Passing a gateway on the way to Waypoint 10.
At this point carefully cross the road to a path which leads uphill to a track at Waypoint 11 which then changes to a tarmac drive serving some large houses.
Opposite Gillhams Farm at Waypoint 12 turn left by a cast iron lamp standard and go downhill on the path next to a field to the bottom of the hill. Turn left here at Waypoint 13 and follow the path adjacent to the railway line to Waypoint 14.
Turn right here and go under the railway bridge. At waypoint 15 just beyond the River Wey pedestrian bridge there is a brick building on the left which has the remains of a ram pump which used to provide a water supply to Hewshott House at the top of the hill. See link https://en.wikipedia.org/wiki/Hydraulic_ram
Follow the path up the hill and at the top turn left onto Hewshott Lane and pass by Hewshott House entrance on the left. Walk along the lane for about 170 yards/ 155 metres until a wrought iron gate appears on the right at Waypoint 17.Pass through this gate and walk up the drive until the entrance to Old Barn Farm is reached. Go through the wooden gate diagonally opposite at Waypoint 18 and then follow the path next to fields down to Waypoint 19 passing between houses to Waypoint 20 .
From here walk down Hewshott Lane to the Junction with London Road. Then continue into the centre of Liphook where the walk started.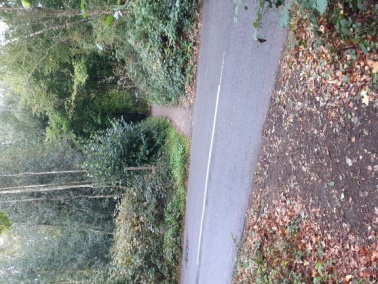 Roger and Barbara Miller walked this walk!
Go back to COUNTRY WALKS