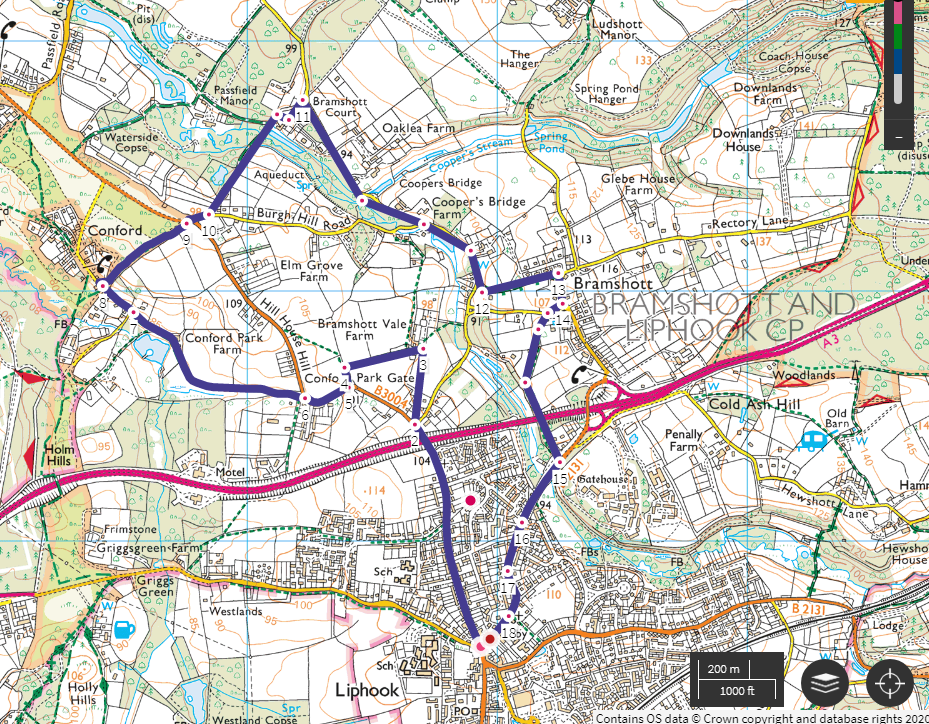 Leisurely circular walk from Liphook and return via Conford and Bramshott 4.4miles / 7.1Km
Start the walk from outside the Royal Anchor in The Square. Go along Headley Road and pass over the A3 road. Turn right into Tunbridge Lane at Waypoint 2, but immediately bear left into Bramshott Vale.
At waypoint 3, Bramshott Vale Farm, turn left and go through the farmyard to the stepped stile. Once over the stile go straight on to Waypoint 4. Turn left here and go to Waypoint 5.Pass through the gate, cross the Headley Road and turn right along the footpath.
Where the road bends go straight on at Waypoint 6 and walk along the stone track into Conford. Just before the village hall and opposite Anvil Cottage turn right up into woodland at Waypoint 8.There is a fallen tree on the path so take a diversion path to the left and go up the hill. Walk over Passfield Common to Waypoint 9.
At this point cross the road, but be wary of traffic [It's best to walk a short way up the road to give a good sight line both ways] Go down Burgh Hill Road and turn left after 25 yard/20 metres at Waypoint 10 taking the path next to Burgh Hill Farm through woodland down to the River Wey . Once at the bridge continue on the path up the hill, passing Bramshott Court on the right, to waypoint 11
From Waypoint 11 walk down the lane for 0.75 miles / 1.12 kilometres until you reach some modern houses on the right at Waypoint 12. Turn left here and go up the sunken path next to Wheeler's drive through woodland until you reach Rectory Lane. Turn right here along Church Road to the St Mary's Church Lychgate
Go through the Churchyard passing the Grade 2 Listed Canadian memorial and war graves. Carry on through the entrance gateway designed by Inigo Triggs and follow the path under the A3 bridge to Waypoint 15.
Turn right and walk up London Road over Radford Bridge back to the start in The Square